The Suisun Summit 2022: Emerging Themes and Open Questions in qEEG and Neurotherapies
Keywords:
EEG, qEEG, neurofeedback, education, conference review, best practices
Abstract
The Suisun Summit 2022 was a gathering of 70 clinicians, educators, and researchers in quantitative electroencephalography and neurofeedback. During this 5-day event, several themes emerged in talks or discussion groups: EEG/qEEG Reading Skills; Medication Effects and Pharmaco-EEG; Technological Advancements; Emerging Concerns; and Growing Community Prestige through Research. Participants were asked to summarize what they believed to be the most important messages from the event to share with colleagues who were not in attendance, resulting in this review. A unifying concept for all the themes was a desire for higher quality, standardized EEG/qEEG education that provides depth as well as breadth. Models of clinical care that encourage open communication with prescribers and functional medicine specialists were strongly emphasized. Abstracts from all presentations are attached in Addendum B.
References
Arns, M., Gunkelman, J., Breteler, M., & Spronk, D. (2008). EEG phenotypes predict treatment outcome to stimulants in children with ADHD. Journal of Integrative Neuroscience, 7(03), 421–438. https://doi.org/10.1142/s0219635208001897
Byrom, B., McCarthy, M., Schueler, P. & Muehlhauser, W. (2018). Brain monitoring devices in neuroscience clinical research: The potential of remote monitoring using sensors, wearables, and mobile devices. Clinical Pharmacology & Therapeutics, 104(1), 59–71. https://doi.org/10.1002/cpt.1077
Gunkelman, J. (2014). Medication prediction with electroencephalography phenotypes and biomarkers. Biofeedback, 42(2), 68–73. https://doi.org/10.5298/1081-5937-42.2.03
Lakhani, N. (2022, October 23). Exposure to environmental toxins may be root of rise in neurological disorders. The Guardian. https://www.theguardian.com/us-news/2022/oct/23/environmental-toxins-neurological-disorders-parkinsons-alzheimers
Leichsenring, F, Steinert, C, Rabung, S, & loannidis, J. P. A. (2022). The efficacy of psychotherapies for mental disorders in adults: An umbrella review and meta-analytic evaluation of recent meta-analyses. World Psychiatry, 21(1), 133–145. https://doi.org/10.1002/wps.20941
Lin, C.-C. K. (2005). EEG manifestations in metabolic encephalopathy. Acta Neurologica Taiwanica, 14(3), 151–161.
Loo, S. K., Bilder, R. M., Cho, A. L., Sturm, A., Cowen, J., Walshaw, P., Levitt, J., Del'Homme, M., Piacentini, J., McGough, J. J., & McCracken, J. T. (2016). Effects of d-methylphenidate, guanfacine, and their combination on electroencephalogram resting state spectral power in attention-deficit/hyperactivity disorder. Journal of the American Academy of Child & Adolescent Psychiatry, 55(8), 674–682. https://doi.org/10.1016/j.jaac.2016.04.020
Mehra, A. (2022, November 11). Personalized medicine industry sizeworth $~500 billion by 2027. Market Research Firm. https://www.marketsandmarkets.com/PressReleases/personalizedmedicine
Nunez, P. L., & Srinivasan R. (2006). Electric fields of the Brain: The Neurophysics of EEG. Oxford University Press.
Schomer, D. L., & da Silva, F. H. L. (Eds.) (2011). Niedermeyer's electroencephalography: Basic principles, clinical applications, and related fields (6th ed.). Lippincott Williams & Wilkins.
Siever, D., & Collura, T. (2017). Chapter 3 - Audio–visual entrainment: Physiological mechanisms and clinical outcomes. In J. R. Evans, & R. P. Turner, Rhythmic stimulation procedures in neuromodulation (pp. 51–95). Academic Press. https://doi.org/10.1016/b978-0-12-803726-3.00003-1
Swatzyna, R. J., Kozlowski, G. P., & Tarnow, J. D. (2015). Pharmaco-EEG: A study of individualized medicine in clinical practice. Clinical EEG and Neuroscience, 46(3), 192–196. https://doi.org/10.1177/1550059414556120
Swatzyna, R. J., Tarnow, J. D., Tannous, J. D., Pillai, V., Schieszler, C., & Kozlowski, G. P. (2014). EEG/QEEG technology identifies neurobiomarkers critical to medication selection and treatment in refractory cases. Journal of Psychology & Clinical Psychiatry, 1(7), 00046. https://doi.org/10.15406/jpcpy.2014.01.00046
Van der Kolk, B. A. (1994). The body keeps the score: Memory and the evolving psychobiology of posttraumatic stress. Harvard Review of Psychiatry, 1(5), 253–265. https://doi.org/10.3109/10673229409017088
Ventriglio, A., Bellomo, A., di Gioia, I., Di Sabatino, D., Favale, D., De Berardis, D., & Cianconi, P. (2021). Environmental pollution and mental health: A narrative review of literature. CNS Spectrums, 26(1), 51–61. https://doi.org/10.1017/s1092852920001303
Weber, D., McCarthy, D., & Pathmanathan, J. (2016). An effective automated method for teaching EEG interpretation to neurology residents. Seizure, 40, 10–12. https://doi.org/10.1016/j.seizure.2016.05.009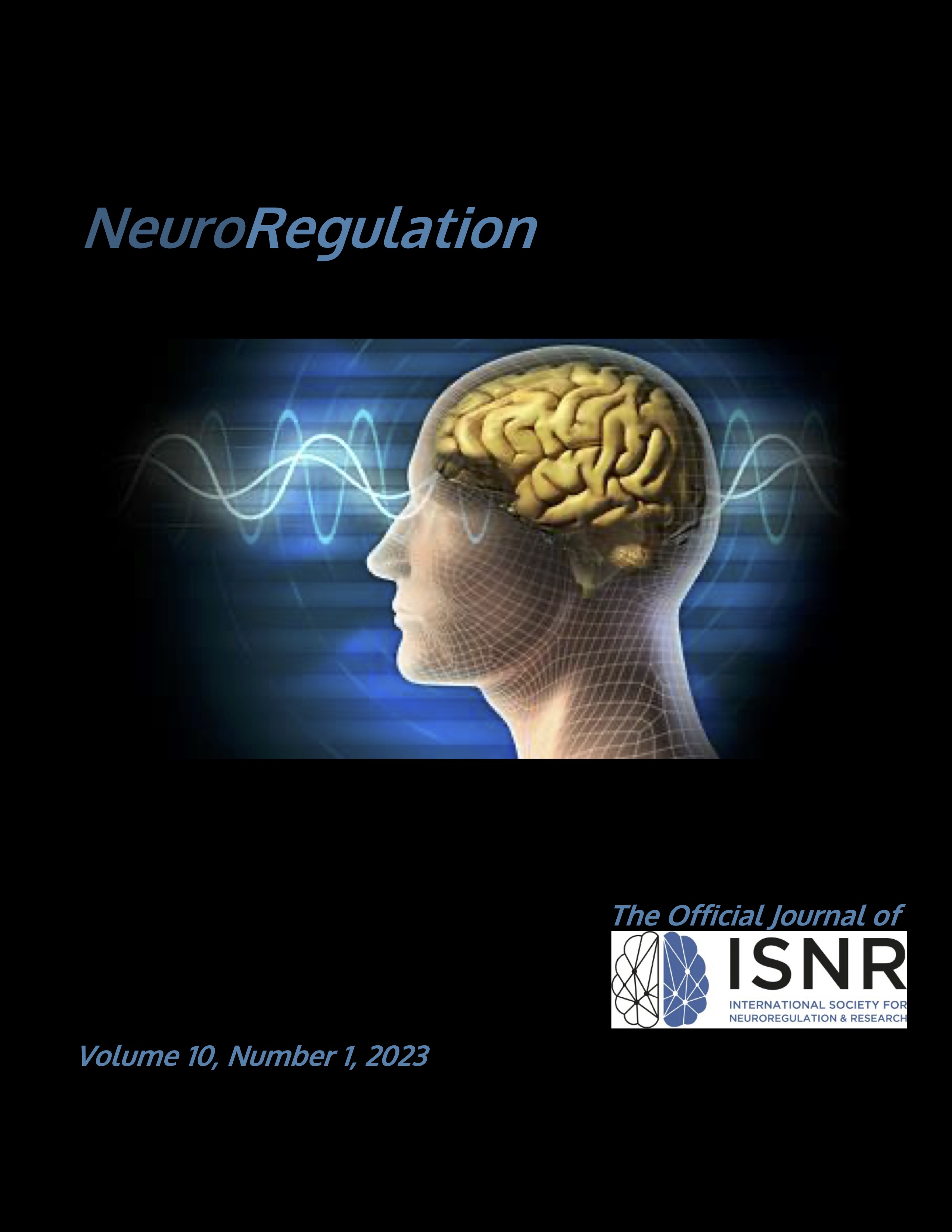 Downloads
License
Copyright (c) 2023 Rogene M. Eichler West, Mary Tracy, Ronald J. Swatzyna, Robert P. Turner, Michael Pierce, Mark Jones, Nicky Whittredge, Jessica Eure, Giancarlo Licata, Taylor Capozziello, Rachman Chung, Clementine Clerc, Shari Johansson, Myler Leachman, Christy Lewis, Yvonne Tate, Gay L. Teurman, Crystal Turman, Linda Weber, Mica Stumpf, Jay Gunkelman
This work is licensed under a Creative Commons Attribution 4.0 International License.
Authors who publish with this journal agree to the following terms:
Authors retain copyright and grant the journal right of first publication with the work simultaneously licensed under a

Creative Commons Attribution License

(CC-BY) that allows others to share the work with an acknowledgement of the work's authorship and initial publication in this journal.
Authors are able to enter into separate, additional contractual arrangements for the non-exclusive distribution of the journal's published version of the work (e.g., post it to an institutional repository or publish it in a book), with an acknowledgement of its initial publication in this journal.
Authors are permitted and encouraged to post their work online (e.g., in institutional repositories or on their website) prior to and during the submission process, as it can lead to productive exchanges, as well as earlier and greater citation of published work (See

The Effect of Open Access

).