Intractable Epilepsy Controlled by Neurofeedback and Adjunctive Treatments: A Case Report
Keywords:
Epilepsy, QEEG, EEG, Neurofeedback, Mental Training, Case Report
Abstract
This case report documents the treatment of a female patient with intractable temporal lobe epilepsy with secondary generalization. At the age of 13, the patient was hospitalized with ~120 seizures in a day, some of which were life-threatening. After hospital discharge, despite a regimen of multiple antiseizure medications, the patient still experienced ~90 seizures per day. After the interventions described in this work, over 500 neurofeedback sessions guided by EEG or qEEG data and adjunctive treatments including mental skills coaching, the patient became seizure- and medication-free, progressing from poor academic performance and inability to carry out normal daily life to attending university as a student athlete playing an NCAA Division I sport. This case emphasizes that, with professional guidance and supervision, it is possible for people with epilepsy or their caregivers to provide the extensive, long-term neurofeedback and adjunctive training necessary for reduction and control of intractable seizures.
References
Asadi-Pooya, A. A., Nei, M., Sharan, A., & Sperling, M. R. (2016). Patient historical risk factors associated with seizure outcome after surgery for drug-resistant nonlesional temporal lobe epilepsy. World Neurosurgery, 91, 205–209. https://doi.org/10.1016/j.wneu.2016.04.022
Balabhadra, A., Malipeddi, A., Ali, N., & Balabhadra, R. (2020). Abdominal epilepsy: A rare cause of unexplained abdominal pain. Cureus, 12(8), Article e10120. https://doi.org/10.7759/cureus.10120
Benevides, M. L., Costa Nunes, J., Guarnieri, R., Pauli, C., Wolf, P., Lunardi, M., Kondageski, C., Neves Linhares, M., Lin, K., & Walz, R. (2021). Quality of life long after temporal lobe epilepsy surgery. Acta Neurologica Scandinavica, 143(6), 629–636. https://doi.org/10.1111/ane.13406
Centers for Disease Control and Prevention. (2020). Epilepsy data and statistics: Centers for Disease Control and Prevention. https://www.cdc.gov/epilepsy/data/index.html
Cerminara, C., El Malhany N., Roberto, D., & Curatolo, P. (2013). Focal epilepsy with ictal abdominal pain: A case report. Italian Journal of Pediatrics, 39, Article 76. https://doi.org/10.1186/1824-7288-39-76
Dozières-Puyravel, B., Danse, M., Goujon, E., Höhn, S., & Auvin, S. (2020). Views of adolescents and their parents on mobile apps for epilepsy self-management. Epilepsy & Behavior, 106, Article 107039. https://doi.org/10.1016/j.yebeh.2020.107039
Engel, J., Jr. (2013). Why is there still doubt to cut it out? Epilepsy Currents, 13(5), 198–204. https://doi.org/10.5698/1535-7597-13.5.198
Engel, J., Jr., Pitkänen, A., Loeb, J. A., Dudek, F. E., Bertram, E. H., 3rd, Cole, A. J., Moshé, S. L., Wiebe, S., Jensen, F. E., Mody, I., Nehlig, A., & Vezzani, A. (2013). Epilepsy biomarkers. Epilepsia, 54(Suppl. 4), 61–69. https://doi.org/10.1111/epi.12299
Fleming, M., Fitton, C. A., Steiner, M. F. C., McLay, J. S., Clark, D., King, A., Mackay, D. F., & Pell, J. P. (2019). Educational and health outcomes of children and adolescents receiving antiepileptic medication: Scotland-wide record linkage study of 766 244 schoolchildren. BMC Public Health, 9(1), Article 595. https://doi.org/10.1186/s12889-019-6888-9.
Frey, L. (2016). Impact of sensorimotor rhythm neurofeedback on quality of life in patients with medically-refractory seizures. NeuroRegulation, 3(1), 3–6. https://doi.org/10.15540/nr.3.1.3
Haut, S. R., Gursky, J. M., & Privitera, M. (2019). Behavioral interventions in epilepsy. Current Opinion in Neurology, 32(2), 227–236. https://doi.org/10.1097/WCO.0000000000000661
Kohlhase, K., Zöllner, J. P., Tandon, N., Strzelczyk, A., & Rosenow F. (2021). Comparison of minimally invasive and traditional surgical approaches for refractory mesial temporal lobe epilepsy: A systematic review and meta-analysis of outcomes. Epilepsia, 62(4), 831–845. https://doi.org/10.1111/epi.16846
Mesraoua, B., Kissani, N., Deleu, D., Elsheikh, L., Ali, M., Melikyan, G., Hail, H. A., Wiebe, S., & Asadi-Pooya, A. A. (2021). Complementary and alternative medicine (CAM) for epilepsy treatment in the Middle East and North Africa (MENA) region. Epilepsy Research, 170, 106538. https://doi.org/10.1016/j.eplepsyres.2020.106538
Mohan, M., Keller, S., Nicolson, A., Biswas, S., Smith, D., Osman Farah, J., Eldridge, P., & Wieshmann, U. (2018). The long-term outcomes of epilepsy surgery. PLoS ONE, 13(5), e0196274. https://doi.org/10.1371/journal.pone.0196274
Morales-Quezada, L., Martinez, D., El-Hagrassy, M. M., Kaptchuk, T. J., Sterman, M. B., & Yeh, G. Y. (2019). Neurofeedback impacts cognition and quality of life in pediatric focal epilepsy: An exploratory randomized double-blinded sham-controlled trial. Epilepsy & Behavior, 101(Pt. A), 106570. https://doi.org/10.1016/j.yebeh.2019.106570
Nagai, Y., Jones, C. I., & Sen, A. (2019). Galvanic skin response (GSR)/electrodermal/skin conductance biofeedback on epilepsy: A systematic review and meta-analysis. Frontiers in Neurology, 10, 377. https://doi.org/10.3389/fneur.2019.00377
Nigro, S. E. (2019). The Efficacy of Neurofeedback for Pediatric Epilepsy. Applied Psychophysioly and Biofeedback, 44(4), 285–290. https://doi.org/10.1007/s10484-019-09446-y
Selaa, R., & Shaked–Toledanob, M. (2014, June). Neurofeedback treatments enable the EEG-normalization and total seizure control of epilepsy–A case study. Applied Psychophysiology and Biofeedback, 39(2), 142–143.
Singh, A., & Trevick, S. (2016). The epidemiology of global epilepsy. Neurologic Clinics, 34(4), 837–847. https://doi.org/10.1016/j.ncl.2016.06.015
Sterman, M. B., Macdonald, L. R., & Stone, R. K. (1974). Biofeedback training of the sensorimotor electroencephalogram rhythm in man: Effects on epilepsy. Epilepsia, 15(3), 395–416. https://doi.org/10.1111/j.1528-1157.1974.tb04016.x
Sterman, M. B., Wyrwicka, W., & Roth, S. (1969). Electrophysiological correlates and neural substrates of alimentary behavior in the cat. Annals of the New York Academy of Sciences, 157(2), 723–739. https://doi.org/10.1111/j.1749-6632.1969.tb12916.x
Strehl, U., Kotchoubey, B., Trevorrow, T., & Birbaumer, N. (2005). Predictors of seizure reduction after self-regulation of slow cortical potentials as a treatment of drug-resistant epilepsy. Epilepsy & Behavior, 6(2), 156–166. https://doi.org/10.1016/j.yebeh.2004.11.004
Tan, G., Thornby, J., Hammond, D. C., Strehl, U., Canady, B., Arnemann, K., & Kaiser, D. A. (2009). Meta-analysis of EEG biofeedback in treating epilepsy. Clinical EEG and Neuroscience, 40(3), 173–179. https://doi.org/10.1177/155005940904000310
Wyrwicka, W., & Sterman, M. B. (1968). Instrumental conditioning of sensorimotor cortex EEG spindles in the waking cat. Physiology & Behavior, 3(5), 703–707. https://doi.org/10.1016/0031-9384(68)90139-x
Yardi, R., Morita‐Sherman, M. E., Fitzgerald, Z., Punia, V., Bena, J., Morrison, S., Najm, I., Bingaman, W., & Jehi, L. (2020). Long‐term outcomes of reoperations in epilepsy surgery. Epilepsia, 61(3), 465–478. https://doi.org/10.1111/epi.16452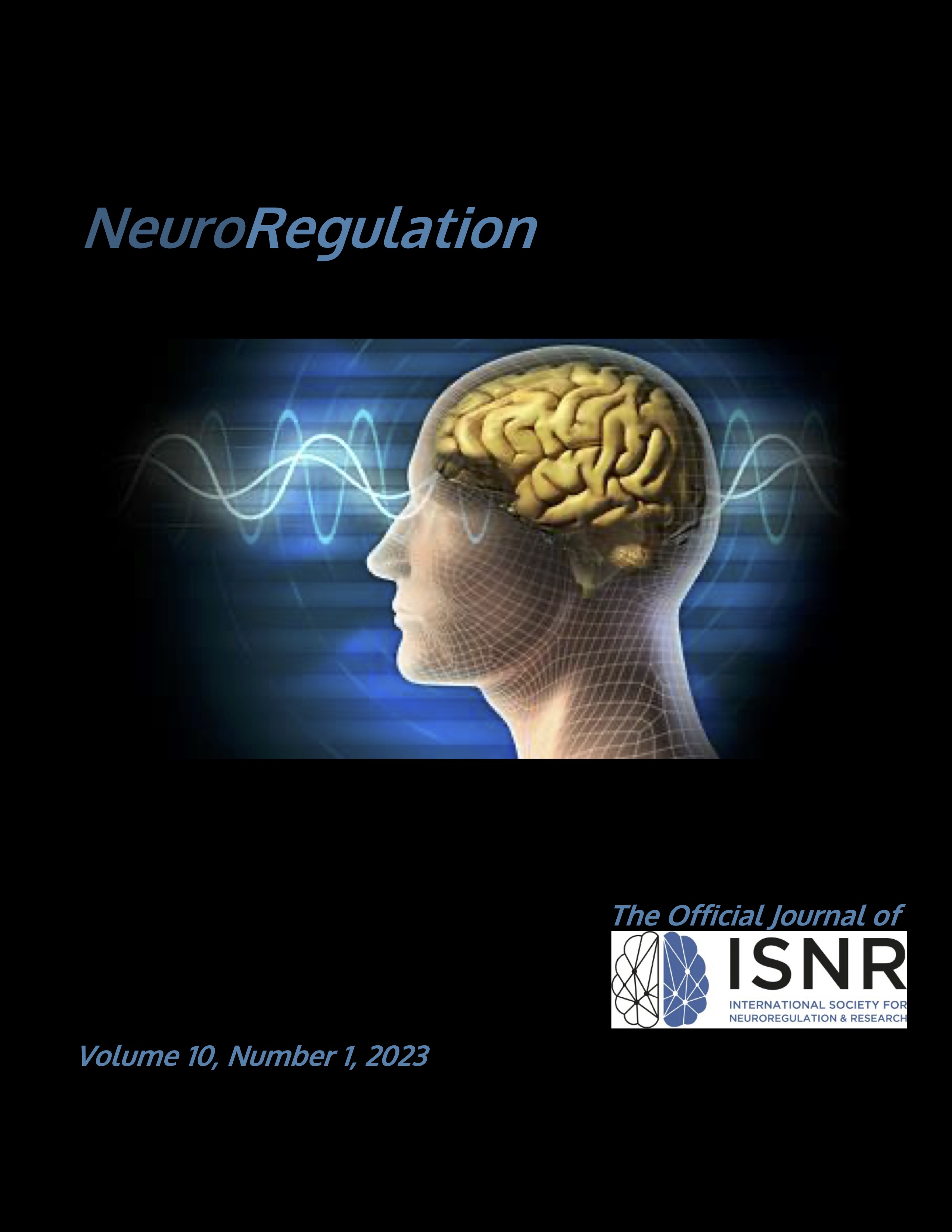 Downloads
License
Copyright (c) 2023 Robert P. Turner, Vietta E. Wilson, Jay D. Gunkelman, Alexandra A. Harvison, Linda A. Walker
This work is licensed under a Creative Commons Attribution 4.0 International License.
Authors who publish with this journal agree to the following terms:
Authors retain copyright and grant the journal right of first publication with the work simultaneously licensed under a

Creative Commons Attribution License

(CC-BY) that allows others to share the work with an acknowledgement of the work's authorship and initial publication in this journal.
Authors are able to enter into separate, additional contractual arrangements for the non-exclusive distribution of the journal's published version of the work (e.g., post it to an institutional repository or publish it in a book), with an acknowledgement of its initial publication in this journal.
Authors are permitted and encouraged to post their work online (e.g., in institutional repositories or on their website) prior to and during the submission process, as it can lead to productive exchanges, as well as earlier and greater citation of published work (See

The Effect of Open Access

).